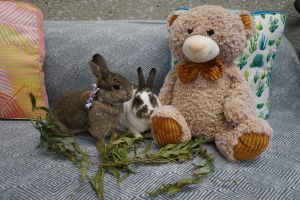 English Spot, American
Spayed/Neutered
Fiona and Zara are four years old. They are both adorable. Both periscope often and jump to the second level of the bunny condo where they like to snack on timothy hay. We call Fiona the Queen as she spends the most time surveying her kingdom on the top level perch. She will also boss Zara by nudging her to move her along and out of the way. Fiona loves to be stroked behind her ears and back and will sit in your lap quietly. They both like to sit and lay next to each other. Zara is shy, and is getting used to being handled and loved on. She is very curious though, and it over rides her prey instincts. She is quick to run, hop, and hide.
They are used to living in a 4 x12 ft pen which gives them room to roam. Sometimes they chase each other and always pursue the broom during clean up. They have the condo, a box, and a hammock which they hide under. They also like laying next to a stuffed panda bear. They love to eat like all bunnies. They won't touch strawberries or blueberries, but love small amounts of carrot, banana and clean dandelions. They love to chomp on timothy hay, romaine lettuce and cilantro and small amounts of cabbage.
Adult, Female, Medium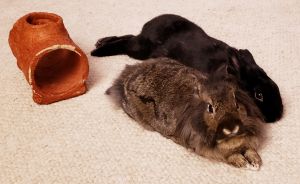 Netherland Dwarf, Lionhead
Spayed/Neutered
Sabee (Say-bee) and Wendy are part of a group of 35+ bunnies that were rescued after a family let them outside in Dekalb. Sabee is likely a Netherland Dwarf/Lionhead mix and Wendy is possibly also Netherland Dwarf. Both have lots of energy and love to run and binky. They are spayed, about a year old, and must be adopted as a pair as they are bonded (they do like their snuggling sessions). Please contact BUN if you are interested in adding these cuties to your family!
Adult, Female, Medium