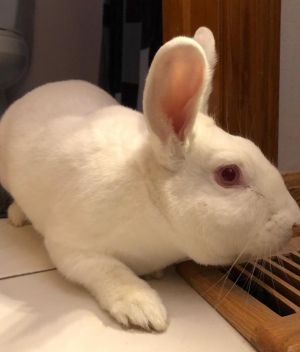 Florida White
Spayed/Neutered
Lily was a stray bunny rescued from the rough conditions of the outdoors. She was scared at first but has really come around to humans and knowing she is finally safe. She can be picked up and is calm. She does get a little nervous still when people walk by but she has gotten much better with that since her first few weeks with BUN. She's a really good bunny and deserves a second chance in a warm loving home where her personality can thrive. She has good litterbox habits and likes healthy treats like basil. One of her favorite things to do is run behind the living room curtains. If you are interested in adopting a sweet girl who has had a rough start, she might be the one for you!
Adult, Female, Medium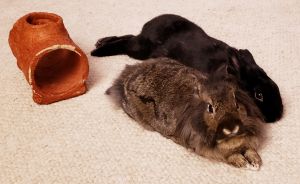 Netherland Dwarf, Lionhead
Spayed/Neutered
Sabee (Say-bee) and Wendy are part of a group of 35+ bunnies that were rescued after a family let them outside in Dekalb. Sabee is likely a Netherland Dwarf/Lionhead mix and Wendy is possibly also Netherland Dwarf. Both have lots of energy and love to run and binky. They are spayed, about two years old, and must be adopted as a pair as they are bonded (they do like their snuggling sessions). Please contact BUN if you are interested in adding these cuties to your family!
Adult, Female, Medium