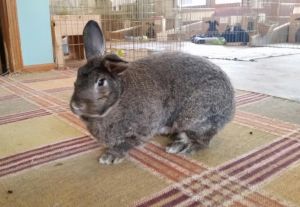 Benny is an energetic, healthy, 8-year-old male bunny. He has great litter box habits and is accustomed to free run of the house. He doesn't always know whether to hold his ears up or helicopter his way around. He loves to play and will entertain you with big bunny binkies during playtime. He enjoys his afternoon naps and mealtime. He's been in good health for his entire life and he's ready to live the rest of his life in his forever home. Will you be that home for him?
Adult, Male, Medium



Lionhead, English Spot
Spayed/Neutered
Hello - I'm Wolfie and I'm really the cutest bunny around, aren't I? Not only that but I'm a gentle and sweet guy, I love being petted but also love playtime and my favorite thing is tossing my toys around, especially ones that make noise! I like to show off my great personality to all who meet me - are you interested in meeting me so I can show off for you too?
Note: I do have cloudy retinas which make me scan my surroundings a lot, especially those that I'm not familiar with. I lead a normal bunny life otherwise but I will need to go to a home with someone who has previous bunny experience.
Adult, Male, Medium